With a range of prints and colours, blue pool liners continue to lead the way in pool liner trends.
Naturally, blue is the first colour that comes to mind when thinking of water, so it's easy to see why industry mainstays and historical bestsellers are blue pool liners. Delving deeper, we discover a versatile and sophisticated colour that shines as the centrepiece to your backyard with a range of styles and finishes.
To create the perfect backyard retreat, try tranquil soft blues that enhance the overall blue colour of the water with fresh natural tones. Pale blue liners offer a spa-like appearance and allow accent colours room to shine. Pale blue base films coordinate with almost every colour and type of decking material, but they really pop when surrounded by grey or tan stonework. The Antigua floor from the Poolside Collection is a perfect example of how a pale blue liner can create a fresh relaxing blue water colour, with accents of teal and medium blue. For vinyl liners, light blue base films tend to show fading of colour less than darker liners, so if colour fading is a concern, a lighter blue liner may be the right choice for you.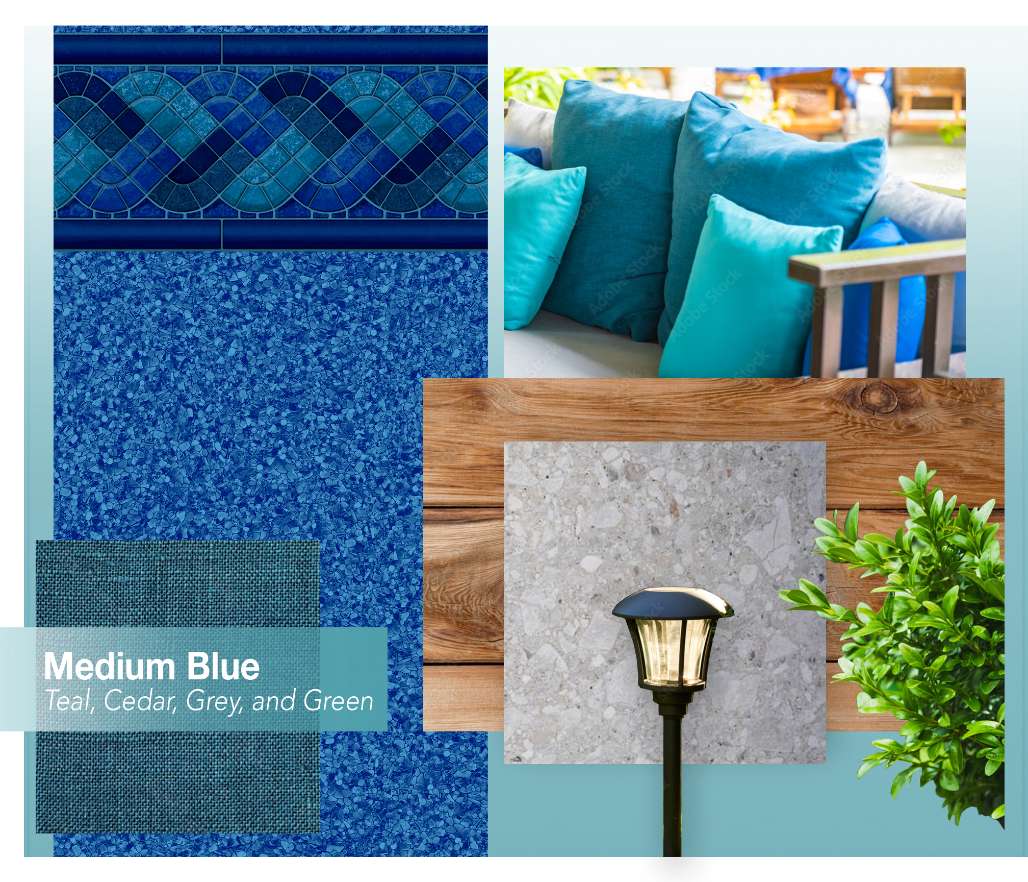 Medium blue liners are classic favourites with a variety of design styles to suit today's styles. Medium blue pool liners anchor your backyard by pulling the other colours in your exterior décor together. Coordinate medium blue with fresh greens & teals, or natural grey tones, for a cool retreat. Warm things up with a bright complementary colour pallet with medium blue and rich earth tones like red clay, burnt orange textiles, or a beautiful red cedar deck.
High-definition blues offer the most vibrant base film colours available in a vinyl liner. Pool liners made with High-Definition Electric or Caribbean blue standout as the backyard centrepiece. Dark blues liners recreate the look of deep waters and hidden grottos. High-Definition base films work well with darker decking surfaces. Darker liner colours are believed to absorb more ambient heat, keeping your pool's water warmer than lighter base film colours. One thing that we know for sure is the refreshing style of high-definition liners is truly inviting on a hot summer afternoon.
Homeowners looking for new trends and modern styles will not be disappointed with the selection of blue pool liners. Add extra flare with pool liners that have Aquashimmer features, adding a shimmering jewel effect sure to make your pool liner the envy of your neighbourhood, or take your pool to the next level with the colour changing Aquashift feature with the Poolside Collection's Surf Antigua design. Liner material made with Aquashift ink change in colour from sparkling violet-blues to silver teal with changes to the viewing angle, resulting in waves of sparkling colour. Blue textured liners offer the realistic look and feel of natural stone or tile in a vinyl pool liner. Blue Slate liner material with Aquasense combines a realistic slate texture emboss with the glimmering beauty of Aquashimmer ink for the height of modern sophistication.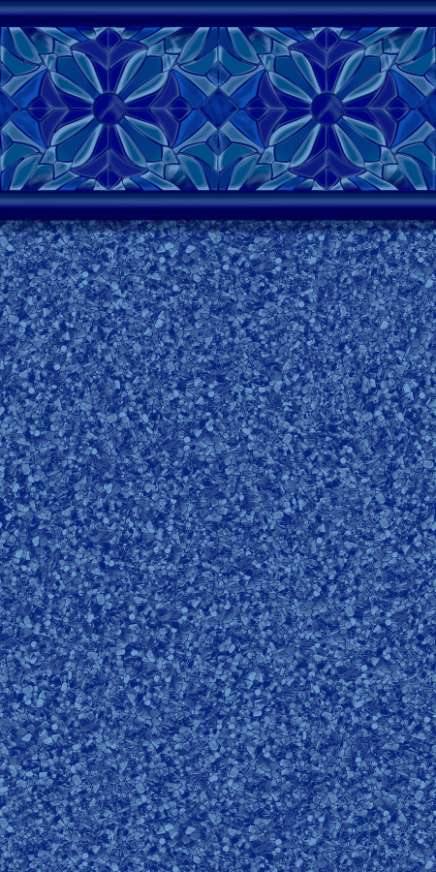 Aucun résultat
La page demandée est introuvable. Essayez d'affiner votre recherche ou utilisez le panneau de navigation ci-dessus pour localiser l'article.